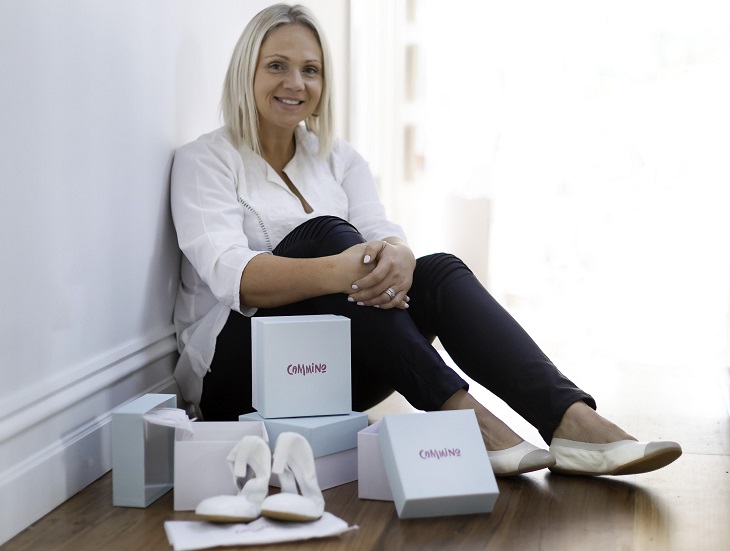 Case Study
How This Footwear Brand Achieved Soaring Success with the Right Strategy
You're ready to grow - and you know what you need to do… Sales strategy, financial plan, funnels, email marketing, marketing plan .. the list goes on BUT, you're just not sure how to implement it all …
Now, imagine being plugged into a team guiding you through it all step by step.
EMPOWERING you with all the knowledge, tools and training you need.
A completely bespoke experience that meets your business needs.
Our coaching and consultancy service will give you just that.
Introducing Cammino Shoes
Cammino Shoes was born out of Katrina's very own need.
"Before kids I worked in a busy corporate role that involved long days looking the part but I was one of the many who could never last a day in heels. I collected ballet flats under my desk to change into between big meetings and to walk in comfort. But my challenge was I could never find a pair that lasted or felt truly comfortable. So, whilst I was on maternity leave, I decided it was time to design the perfect pair of ballet flats. My love of Italian footwear led me to a small family run factory in Italy to have them hand made for true lasting quality. Since launching 5 years ago we have also now a sneaker range."
The Problem
Like many of the established businesses that join The Elevatory, Katrina was struggling to scale the business.
"I had a great loyal base of customers and fabulous feedback on my product but really needed to reach the masses. I also needed help to understand my cash flow to plan effectively."
Joining The Elevatory®
Katrina recalls:
"I was impressed with the time Anna took to understand my business and its challenges which is part of what led me to sign on. But the clincher for me was the array of experts in their fields that were part of her coaching team that would help me reach my goals."
Results
Pitch & Messaging
We knew Katrina had a great product but had a hunch that something was awry in her messaging.
So our first step was to take a look at Cammino's pitch and positioning strategy.
Katrina came to us with messaging focused on her shoes being high quality and 'Made in Italy'.
But after extensive market research it became evident that 'Made in Italy' wasn't the key driver for purchase - in fact it was that her shoes were colourful, comfortable and long lasting.
A small tweak in messaging but one that made a profound impact on what came next …
Website Overhaul
Along with our new insights on messaging, Katrina's website had a full overhaul to make it more user friendly & conversion friendly.
Before
After
Katrina joined The Elevatory in March 2022. By November her monthly website visitors increased x6 and they are still growing. With people now spending twice as long on the site.


Email Marketing
We migrated Katrina from MailChimp to Klaviyo which is more robust and is our preferred ecommerce email marketing platform.
Along with the migration we culled lots of inactive email addresses which were hurting email deliverability.
We also set up a series of email automations (flows) which nurtured leads around the clock encouraging them to purchase.
You can see here the increase in conversions attributed to flows over since the cutover to Klaviyo in Aug22.

Paid Marketing
Prior to starting with us, Katrina had outsourced her paid marketing. The result was disastrous, sending her even deeper into the red.
Through our specialist coaches Caroline & Jo, Katrina is now able to successfully run her own Meta & Google paid ads and is reinvesting those agency fees she was paying into ad spend.
Recent campaigns were a top of the funnel lead generation campaign centred on a 'Secret Sale'. Leads here were just over $1.50 each.
And a sales campaign – also top of funnel – where the key is consistently spending (not a one-off campaign) with continued good ROAS over time.
And a massive win has been taming the google beast.
With Katrina's persistence and optimisations and CONSTANT willingness to test, her click-through rate in Google PMAX are seriously on the rise and her conversion rate is getting some solid consistency.

Growth
Katrina came to us with monthly sales of around $2k now she is consistently hitting $15-20k months on repeat.
Her May23 YTD sales are up over 500% on the same period in 2022 and well on their way to Katrina's first 6 figure year.
Our focus now is very much on mastering customer retention and driving up the LTV of her customers.
The Future
"We will continue to listen to our customers and bring out more unique colours in both ballet flats and sneakers. But we also hope to offer even more to our customers in the way of Cammino accessories that help busy women to get through the day. All with a nod to our brand Cammino - meaning to walk."
★★★★★
5.0 Rating from 61 Google Reviews
"Two months in and my audience has grown by thousands, my list has doubled and my income is steadily growing. I have dived into Facebook ads which has been a revelation and I've even executed a pre launch launch! It is powerful to be right alongside other owners as they grow their businesses too. The support, the accountability and the candidness of our coaches is making a major difference to how I am working and my goals for the future."
Erin Duncan | Erin Duncan Creative
"In the first 3 months I got more done than what I used to get done in a year. We have made so many incredible changes to improve both my sales and profit margin.
After just 2 months, I had a record month in sales."
"In two months, I have tripled my email subscribers, set up automations which have generated great sales (abandoned cart sequence and website pop-up) set up my first Facebook ad which is doing really well AND sold out of my pre-sales for my next book in a couple of hours!"
Jess Spencer | Adored Illustrations
Just 12 months in our sales are doubling year on year... we've jettisoned a product, relaunched our flagship product, rebranded our website, and overcome one of us unexpectedly being absent from the biz. This year we will totally be a AU$1,000,000 turnover business. What's more we LOVE our biz again!
Jo Cumberbatch | Go Trovo Games
"I have been able to efficiently fast track my business to success within the niche Equestrian industry with a complete rebrand, new website, social media and marketing plan and fundamentally a better understanding of my numbers. If you are a business owner who needs to be inspired, educated and connected with like minded individuals to take your business to the next level, I cannot recommend joining the Elevatory journey enough!"
Kate Berry | Just Gorgeous Things
"This program has opened my eyes and helped me take my business to the next level. The assistance and support with FB ads, strategy and financial management has increased my sales month on month. I wouldn't have been able to achieve what I have in the last six months without their help, they have reignited the passion and motivation I first had for my business, and I am excited for what is to come."
Gemma Bronzoni | The Nappy Society
"The Elevatory have helped me scale up and given me the tools and confidence to make changes that have had a major impact on my revenue. I had invested in coaches before, but never to this extent (financially and emotionally)..but I am more than happy to report that the coaching has paid for itself several times over. I honestly couldn't be happier with the results, so much so that I will continue to work with Anna and her team for the foreseeable future. I just cannot let them go!
Nikki Capp | The Cover Collective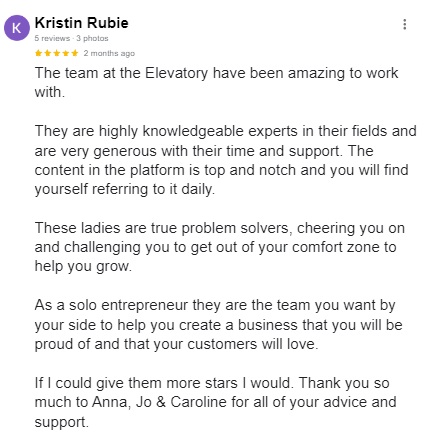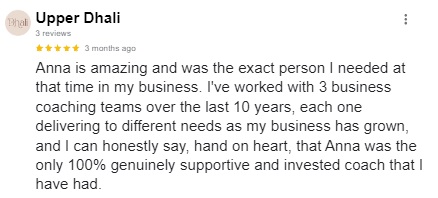 Walk through our entire process with case studies from these current clients
At The Elevatory, we provide personalised coaching for product businesses aiming to amplify growth through strategic marketing.
Our goal, to empower you to master a comprehensive marketing ecosystem, simplifying customer acquisition, conversion, and sales.
ACCESS A TEAM OF EXPERT COACHES
A PROVEN GROWTH FRAMEWORK