Mastermind Case Study
How This Business has Grown it's Revenue by over 550% YOY with a successful Facebook Ads strategy
You're ready to grow - and you know what you need to do… Sales strategy, financial plan, funnels, email marketing, marketing plan .. the list goes on BUT, you're just not sure how to implement it all …
Now, imagine being plugged into a team guiding you through it all step by step.
Sense checking e.v.e.r.y.t.h.i.n.g as you go and EMPOWERING you with all the knowledge, tools, training you need.
A completely bespoke experience completely tailored to your business needs.
The Elevatory® Mastermind gives you just that.
Introducing The Pop-Up Party Co
Inspiration for The Pop-Up Party Co came to Bec when she was celebrating her little girl's first birthday party and couldn't find anywhere online to buy everything that she wanted in the one place.
"I had a clear vision for what I wanted but just couldn't quite find it all in one place without having to pay shipping from multiple stores."
Bec comes from a family of entrepreneurial women and has always been inspired by her mother and grandmother and their businesses.
So, she got to work researching and a year later in June 2018 when she was 6 1/2 months pregnant with her second child, she launched The Pop-Up Party Co!!
Fast forward two years and Bec has now resigned from a career in education to focus on the phenomenal growth of her business.
The Problem
"Before joining The Elevatory, I had the ideas but absolutely no direction on how to build that idea into a business."
"I had zero business experience or skills having come from a career in education and really had no idea on where to start."
"I didn't want to just throw myself blindly into starting a business – I wanted to do it properly and feel armed with the skillset I needed."
Joining The Elevatory® Mastermind
"I chose the Elevatory as I liked their wholistic approach to business coaching and development and I knew from the start they would teach me the foundations I needed to build my business and get it off the ground. I felt a sense of trust in the experience of the coaches and found them all so knowledgeable yet relatable."
The 4 core objectives

at The Elevatory


One
FOUNDATIONS
Set your business up for growth now and into the future

Two
GROWTH
Increase your traffic, sales and profit


Three
AUTOMATION
Automate as much of your business as possible


Four
MINDSET
Have you firmly step into the CEO role of your business
Results
Mindset
Bec states she's had 'a huge shift in mindset' with the help of The Elevatory.
"Initially I struggled to take myself seriously as a woman in business – to me it was more of a hobby. In hindsight, I don't think I ever allowed myself to believe that this was going to be a successful business one day – I always believed I would stay in the 'safe' zone of my education career without taking too many risks. My growth in confidence in this area has been huge and I am grateful for the support of the Elevatory coaches in helping me with this."
Bec started out by working with founder Anna Jonak who holds a degree in Psychology, is an Advanced Practitioner of Life Coaching, and holds certificates in Meta Dynamics, NLP, Deep State Repatterning.

Core Offer
When Bec started her business, she wanted to be everything to everyone, and offered a huge array of products.
She learnt at The Elevatory that to stand out in a cluttered marketplace, a business needs to have a core offer. That is, something that Bec can offer the market that makes her different to her competitors, which she can build a business around.
To find her core offer, Bec did a lot of market research to gather a clear understanding of the pain points of people in her target market. She made sure she was crystal clear on who her target market was and what they were looking for.
From there, Bec developed a product which hit as many of those pain points as possible to really stand out in the market this included high quality products with on trend colour palettes, that save time and effort but still be at an attainable price point.

Website Upgrade
Bec has done a considerable amount of work on her website over her time with us.
And not only does it look beautiful but she has learnt all the key components to a highly optimised website and is able to apply this knowledge regularly to continually improve the user experience when shopping on her online store.
Furthermore, her website now delivers her a conversion rate of over 2% which is above the expected 1-2%, and will only continue to increase as user experience refinements are made.

Email Marketing
Bec says 'I have learnt so much about digital marketing in my time with The Elevatory. My main focus has been Instagram, Facebook and Email Marketing.'
Over the last 2 years with The Elevatory, Bec's email list has gone from zero to over 6,000. Building your own email list is a critical business activity as you can market directly to those who want to hear from you, any time at no cost.
Bec has worked hard to create a series of automations within her email platform, triggered by different customer behaviours so she is able to send highly targeted information and bespoke offers which in turn increases conversion rates.

Facebook Advertising
Bec also initially learnt the ins and outs of FB advertising within our program which Bec says 'was a huge eye-opener to what a complex beast fb advertising really is!'
Grateful to learn the ropes and start successfully selling via this medium, Bec now has her ads managed by our in-house ads management team – exclusively available to our Mastermind clients.
Benefits here are two-fold - she is now able to concentrate on other areas of business growth and her FB ads have stepped up to a whole new level.
Since taking over the account in April, Bec's ROAS (return on ad spend) is 9.16. Which means, for every $100 Bec spends on ads, she gets $916 back. That ROAS also takes into account all of the different funnels and ad types running - engagement ads, traffic ads and conversion ads.
'This has been a true game-changer for my business and one of the best decisions I have made.'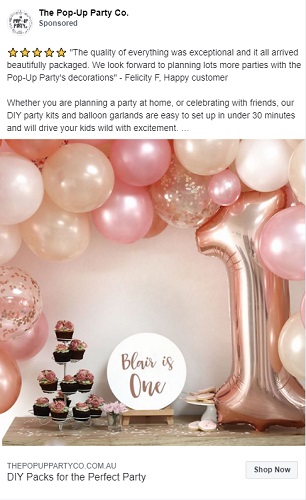 Product Innovation
During this turbulent year Bec's innovative thinking and the support of our coaches and ad team meant she was able to pivot online quickly and stay strong in an uncertain and ever-changing online market.
After an initial drop in sales when COVID first hit, Bec quickly created an offering for people having celebrations in isolation - her "Party at Home" packs and we all got to work marketing them.
They have proved to be hugely popular and led to the development of a whole suite of new party packs, which are now a staple in her online store.
Bec also built many meaningful connections with customers during this time. ''It means the world to me to know that I am contributing in a small way to bringing joy to a family who is having a hard time in lockdown'.

Financial growth and stability
Bec started with us with a 5-figure revenue year. A huge milestone this year was her first 5-figure launch!
Her year on year revenue growth has been 550%. She's now just weeks way from opening a bricks and mortar store. And we're forecasting a further 400% growth for next fin year. Our focus is now on maximising net profits, stock management and team building!

The Future
Next up is our Christmas launch for this year and continued focus on shop fit out (and some sleep!).
"The Pop-Up Party Co store is opening at the end of November! The possibilities are endless thanks to The Elevatory."
1
TAILORED
COACHING
EXPERIENCE
6
EXPERT
COACHES TO
SUPPORT YOU
100+
HOURS
OF HANDPICKED
TRAINING
1897+
FEMALE
ENTREPRENEURS
TRANSFORMED
The Elevatory® Mastermind is an intensive hands on next level coaching experience
for women who want to break boundaries and smash through the 6-figure ceiling in their business.
It's specifically designed for women who want to move fast, and want one on one,
step by step guidance and accountability to ensure them results.