Immersive and transformative
one on one business coaching
for women looking to break boundaries in their business
If you're an established business looking to unlock additional revenue each month
and scale sustainably - then The Elevatory® is for you.
Designed for women, by women, we deliver a unique and intimate coaching experience that is tailored
to your business, where client experience and emotional connection are our number one priority.
A PROVEN GROWTH FRAMEWORK
You're ready for the next level
As you arrive here today it's likely you've hit a wall of some kind in your business,
you are questioning your next steps, feeling burnt out, and / or in need of a serious marketing makeover.
And you're here right now because you know you need help
and you're on a mission to find the right coach or program to get you there.
You're very clear on what you want ... eyes all over your business,
1:1 support, people who actually care and a process that guarantees you results.
But from your research to date everything's fallen short.
Until now...
The Elevatory Mastermind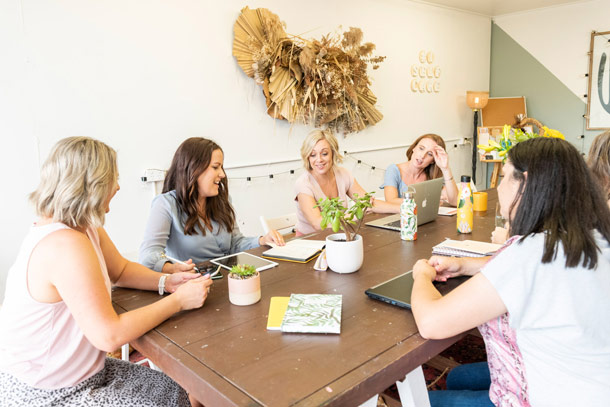 Achieve breakthrough growth with our 'one of a kind' Mastermind Program.
For e-commerce owners, service business and bricks & mortar moving online.
Our signature program is for women who want to smash through the 6-figure ceiling in their business or move from 6-figures into the multiples.
It combines one-on-one support from our expert coaching team, an elite peer to peer network and a distinct step by step coaching process that guarantees you results.
★★★★★
4.9 Rating from 48 Google Reviews
A note from our founder
Back in 2016 when I wanted to scale - I searched high and low for a female focussed Mastermind to help me grow. BUT - my searches came up short.
Having a female leader was particularly important to me because the pressures and emotions for women in business can be quite different, especially when you're juggling a family.
Alongside this, the more I dug - I discovered that the focus of most Masterminds were often centred around group work and expensive retreats, rather than someone working 1:1 with me on my business.
So I created the ultimate female focussed Mastermind which is a culmination of my needs in those years.
It's run by a team of women all with niche expertise to add value in your journey. And a community that runs alongside it where you can connect, create, cry and celebrate.
But most importantly where the focus is on working one-on-one so you can take action and get results fast.
I can't wait to see you on the inside.
Anna Jonak xo
Meet our amazing team
We believe it takes a village to grow a successful business which is why when you join us
you get one on one access to a whole team of expert coaches
all with unique business experience and specialist skills to serve you to the next level.
We live and breathe everything we do, so you always get the most up-to-date advice and mentoring.
DORA

|

SERVICE COACH
Brand Strategy
Marketing Strategy
Copywriting
JULES

|

E-COMMERCE COACH
E-Commerce
Wholesale
Customer Loyalty
NAT

|

E-COMMERCE COACH
E-Commerce
Wholesale
Customer Loyalty
Walk through our full Mastermind process with these recent client case studies.
The Skin Queen
How This Beauty Education Business Went From Side Hustle to Main Hustle
READ MORe CLIENT SUCCESS STORIES
APPLY FOR A FREE
Business Scale Session
Want to scale to 6 figures and beyond? Apply for a 1:1 Scale Session with Founder Anna Jonak and receive a personalised roadmap for growth. Valued at $499AUD.
Rising Female Entrepreneurs Facebook Group
Connect with our tight-knit community of women driven to achieve more in their business.
6 Figure Scale Checklist
Download a checklist of everything you need to have in place to successfully scale.
Scale-up Health Check Quiz
Learn in just 2 minutes how well positioned your business is for its next level of growth.
We live in a world where new business owners think they can make money from day one, that an ecommerce store is passive income, and that with the right manifestations you don't have to hustle.
This podcast calls BS on the blatant lies, spammy sales tactics, clever copy and false promises from todays' coaches and marketers. Get ready for a real, honest and raw look at what it takes to build a business to feed your family.
"In the first 3 months of the Mastermind I got more done than what I used to get done in a year. We have made so many incredible changes to improve both my sales and profit margin.
After just 2 months, I had a record month in sales.
Louise Carter | Baby Luno


"Anna and her team have been instrumental in the success of the launch of my new styling membership with 30 + paying members. Anna truly knows her stuff. The value you get from her coaching is unbelievable. She goes above & beyond to get the results you need. Her whole team have helped me by looking at my business as a whole, including my website, email sequences and copywriting.
Shannon Johnson | Living For Style



"Just 12 months in our sales are doubling year on year... we've jettisoned a product, relaunched our flagship product, rebranded our website, and overcome one of us unexpectedly being absent from the biz. This year we will totally be a AU$1,000,000 turnover business. What's more we LOVE our biz again!"
Jo Cumberpatch | Gotrovo Games
"Hi Anna and Team. Thank you all so much for all the amazing things you taught me. We have been signing up multiple clients a week and we had to stop for the next few weeks to take a breath. Our clients said that they felt our authenticity through our website and socials that prompted them to contact us."
Michelle Arbitria | The Outsourcing Crew