You've hit a wall, are questioning your next steps, feeling burnt out, and / or in need of a serious marketing makeover …
Ready to achieve breakthrough growth in your business?
Enter The Elevatory Mastermind.
Our one of a kind Mastermind, brings together 1:1 support from our expert coaching team, an elite peer to peer network
and a distinct step by step coaching process that guarantees you results.
It's specifically designed for women, by women, with an intimate approach that is tailored to your business
and where client experience and emotional connection are our number one priority.
Our Mission
Our mission is for you to reach a sustainable 6 or 7 figures (or whatever your personal goal may be). With no spikes in revenue, no spammy tactics and no dancing on insta reels (unless you really want to!).
We're NOT about quick fixes and fads to help you grow - but about building out the infrastructure for long term sustainable growth and most importantly about building a strategy and approach that is authentic to you and aligned with your values.
We have a distinct and deliberate coaching framework that we work through to help you sustainably grow.
A successful business starts with BUILDING the strongest foundations.
From there it is about PLANNING your approach to attract, nurture and convert your prospects.
Finally it's about EXECUTING your plans and building out multiple funnels within a comprehensive traffic system
to automate your lead flow around the clock.
You will master each of the elements above using proven tools and strategies with a whole team on hand to make sure you're doing it right!
Whether you have an e-commerce or service business or you are a bricks & mortar moving online.
we've got you covered. We know it's diverse, but so is our collective experience!
To date we've worked with over 2000+ businesses and our clients include: Artists, Consultants, Naturopaths, Personal Stylists,
Baby Products, VAs, Authors, Jewellers, Party Products, Gift Hampers, Animal Services, Coaches, Visa Specialists, Bedding,
Beauty, Bakers, Midwives, Fitness + much more.
Some of our current clients:
We are 100% committed to ensuring our clients get results.
Our Mastermind is completely focussed on doing and we have a strict criteria we follow to ensure your business grows.
The women we've coached through this process have already added a collective >$2M in new revenue to their business.
Quite simply, what we do works.
And as a result, we have guarantee!
If you implement everything you commit to (as guided by us) across your program term and do not get any results, we will work with you for free until you do.
You will not find a team or community who care more than we do about YOU and your progress.
Some of our recent client wins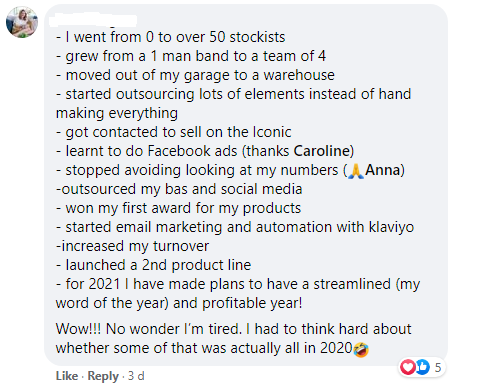 Click Book in a Discovery Call
Complete the short form provided so we can learn more about your business
Schedule Your 30-Minute Discovery Call
You'll then meet with Founder Anna Jonak, who'll walk you through our program and assess whether we're a good fit
If we're a good fit and you want in - we move forward and start kicking goals quickly. If not, no problem. It's super important you're all into this process because it's life changing when you are!
Review our most recent case studies
The Real Girls Movement
How This Health & Wellness Business can Fill its Programs on Rinse and Repeat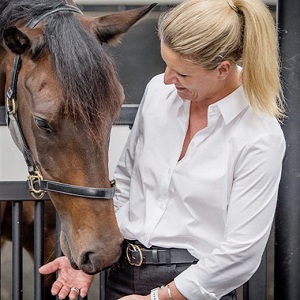 Just Gorgeous Things
How This Equestrian Inspired Business Transformed with New Revenue Streams
Their journey in their words
I sold out of my pre-sales for my next book in a couple of hours!
Jess Spencer | Adored Illustrations
The mastermind has paid for itself several times over.
Nikki Capp | The Cover Collectives
We aim for 200% growth in our second year of operation.
Zahirah Ismail | Home of Visas
I'm up 310% year on year.
Tara Brady | Baby Bow Club
I've achieved a profitable launch and a soild future revenue stream for my business.
Gemma Benad | The Manifesting Mums
After just 2 months, I had a record month in sales.
Louise Carter | Baby Luno
I've doubled my income thanks to their help.
Josephine Eve | Josephine Eve
Just 12 months in our sales are doubling year on year...This year we will totally be a AU$ 1,000,000 turnover business.
Jo Cumberpatch | Gotrovo Game