Mastermind Case Study
How This Beauty Education Business went from Side Hustle to Main Hustle
You're ready to grow - and you know what you need to do… Sales strategy, financial plan, funnels, email marketing, marketing plan .. the list goes on BUT, you're just not sure how to implement it all …
Now, imagine being plugged into a team guiding you through it all step by step.
Sense checking e.v.e.r.y.t.h.i.n.g as you go and EMPOWERING you with all the knowledge, tools, training you need.
A completely bespoke experience completely tailored to your business needs.
The Elevatory® Mastermind gives you just that.
Introducing The Skin Queen
Kelly's business started as a side hustle when she saw a gap in the education space within the professional beauty industry.
Having worked in the industry for over 5 years, she constantly had people asking her where she studied and how did she know so much. Alongside this she was repeatedly approached for help with Instagram marketing.
So, Kelly began her journey by creating a series of resources for beauty and skin clinics and slowly started to build a following. But she knew it could be SO much more!
The Problem
"Before I joined the Elevatory, I knew that I had potential to turn what I was doing into an actual online business & build a bigger audience, but I didn't know where to start at all."
"I was struggling a lot with imposter syndrome and feeling like, "who would buy from me?".
"All I knew was that I really wanted to grow my personal brand, help more people within the professional beauty industry & create an online business for myself where I could do what I'm passionate about every day."
Joining The Elevatory® Mastermind
I was instantly drawn to The Elevatory after my first meeting with Anna as she had a process & strategies that worked across online, ecomm & bricks and mortar business which told me that they had great knowledge, experience & expertise with all things business processes! I am someone who loves processes & loves taking direction and this has been the perfect opportunity for me, I am so glad I took the leap!
The 4 core objectives

at The Elevatory


One
FOUNDATIONS
Set your business up for growth now and into the future

Two
GROWTH
Increase your traffic, sales and profit


Three
AUTOMATION
Automate as much of your business as possible


Four
MINDSET
Have you firmly step into the CEO role of your business
Results
From branding, to my website, to developing my offer, copywriting, marketing strategy & so much more, I've completely upped my game across all areas of my business since first joining The Mastermind just 6 months ago now!
Brand Position & Core Offer
When Kelly started with The Elevatory our first big step was to help her create a strong brand identity and clear position in her marketplace.
We needed to clarify who exactly Kelly was going to BE in the marketplace, who she would be serving, the specific problem(s) she was solving and how she would be solving them.
After extensive market research, a work through of her current offers and tapping into her big picture vision– we cemented our approach.
From there we set about reworking the copy for her entire website with a clear vison and mission at the core.
Branding
Our next step was to connect Kelly to one of our design partners who brought Kelly's brand to life across all platforms whilst we dove into her marketing!
"I've had many achievements in a very short space of time, but I think the biggest one for me personally would have to be rebranding and creating an amazing website that I am so proud of! I feel so confident to promote & market myself because I know my brand reflects professionalism whilst still showcasing who I am!"

Sales Funnels
With our brand position and core offer clear – our focus then turned to building Kelly's brand presence along with building out an automated lead flow to make sales and book clients.
To do this we mapped out and built out 3 Funnels with Kelly:
A branding building funnel
A list building funnel – which simultaneously sold low ticket resources
And finally, a phone funnel – for her coaching services.
With the guidance of The Elevatory Marketing Coach Caroline and an extensive bank of resources in The Elevatory's database, Kelly then went on to set up and create her own Facebook & Instagram Ads campaigns to fill her funnels.
Growth
How has your email list grown?
"It's gone from 0 to over 150 in less than 3 weeks!"
How has website traffic grown?
"I've had nearly 2500 views in less than 3 weeks"
Increase in revenue YOY?
"Last year in total I did about $2100 and I've done nearly $1k in 3.5 weeks and counting... and that's before I've taken any sales calls!"
The Future
I'm now knee deep in launch mode with the coaching team – as I work on my new Membership.
I'm seriously ready to go full-time in my business. This is it!!
Client Update 12 months in
Just a recap: In the first 6 months we built out the entire sales & marketing infrastructure for Kelly's business [website, funnels, emails & ads]. And by the end of the 6 months she started booking clients and making sales and was preparing to leave her job! [See her goals above]
Then three months later, Kelly:
Launched a membership that had 30 paying members within its first month
Grew her email list to 2500
Grew her facebook group to over 1k members
And she launched her signature program with 45 ladies signed up and $27,000 cash collected in a week!!
Now, a full year later - she's hit 6 figures!
Kelly's results are continuing to build with amazing momentum.
Her investment with The Elevatory is and will continue to compound.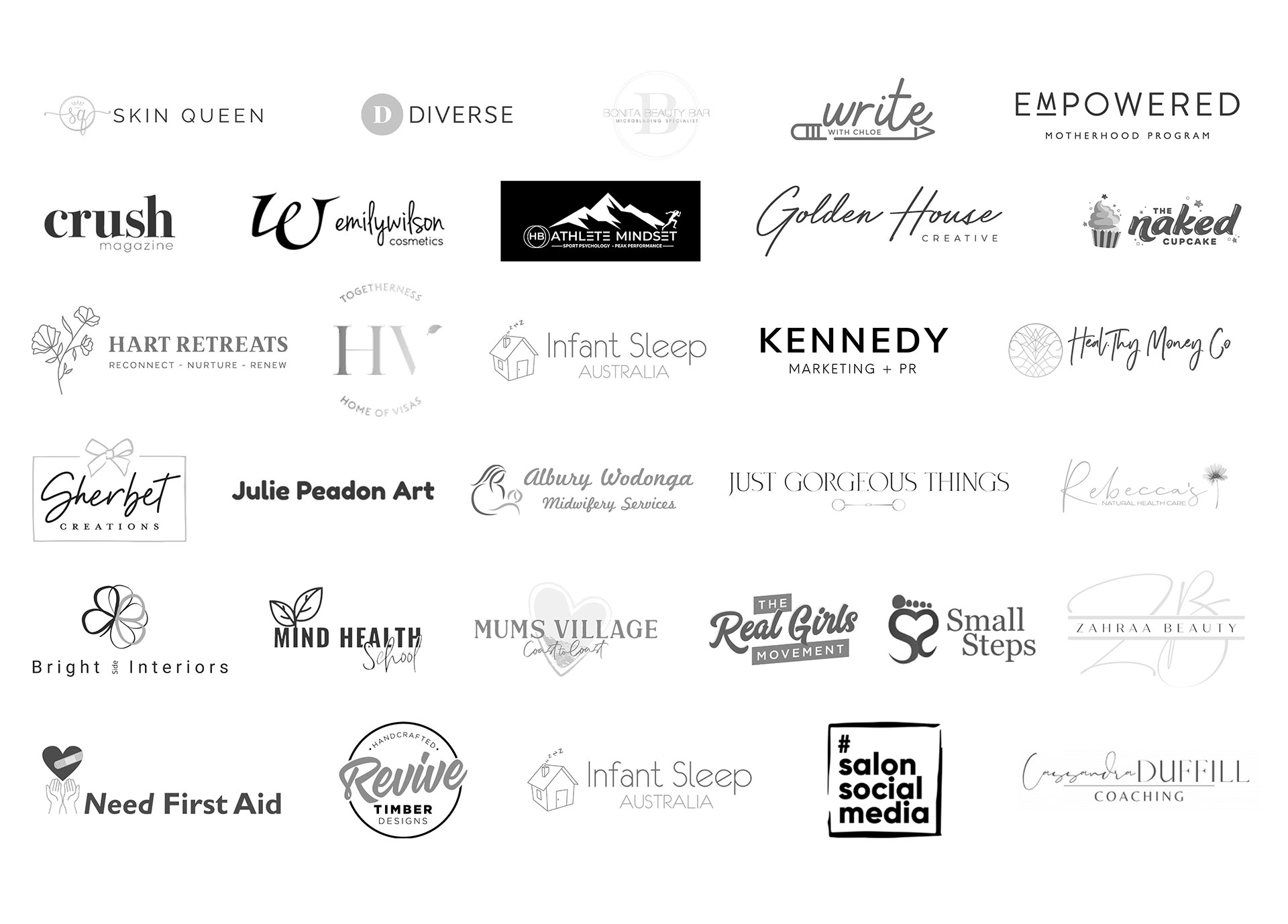 Walk through our entire process with case studies from these current clients
The Real Girls Movement
How This Health & Wellness Business can Fill its Programs on Rinse and Repeat
The Skin Queen
How This Beauty Education Business Went From Side Hustle to Main Hustle
The amazing results our clients have achieved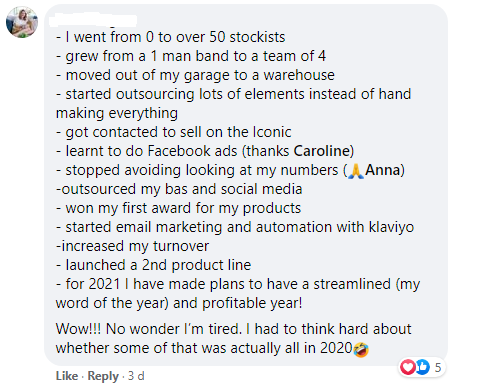 "Anna and her team have been instrumental in the success of the launch of my new styling membership with 30 + paying members.
Anna truly knows her stuff. The value you get from her coaching is unbelievable. She goes above & beyond to get the results you need.
She is a wealth of knowledge and also down to earth and approachable for people like me who aren't great at the back end of the business.
Her whole team have helped me by looking at my business as a whole, including my website, email sequences and copywriting.
I would highly recommend you invest in her services! You will wonder why you hadn't done it sooner!"
Shannon Johnson | Living For Style
"Two months in and my audience has grown by thousands, my list has doubled and my income is steadily growing. I have dived into Facebook ads which has been a revelation and I've even executed a pre launch launch! It is powerful to be right alongside other women as they grow their businesses too. The support, the accountability and the candidness of our coaches is making a major difference to how I am working and my goals for the future."
Erin Duncan | Erin Duncan Creative
"In the first 3 months I got more done than what I used to get done in a year. We have made so many incredible changes to improve both my sales and profit margin.
After just 2 months, I had a record month in sales."
"The Elevatory has taught me so much even after doing multiple courses in business and mindset. These ladies have an amazing an awe-inspiring passion that really comes out when working one on one with them. The amount of value and information that's included is incredible, I've doubled my income thanks to their help."
Josephine Eve | Josephine Eve Personal Fashion Stylist
"In two months, I have tripled my email subscribers, set up automations which have generated great sales (abandoned cart sequence and website pop-up) set up my first Facebook ad which is doing really well AND sold out of my pre-sales for my next book in a couple of hours!"
Jess Spencer | Adored Illustrations
Just 12 months in our sales are doubling year on year... we've jettisoned a product, relaunched our flagship product, rebranded our website, and overcome one of us unexpectedly being absent from the biz. This year we will totally be a AU$1,000,000 turnover business. What's more we LOVE our biz again!
Jo Cumberbatch | Go Trovo Games

"I have been able to efficiently fast track my business to success within the niche Equestrian industry with a complete rebrand, new website, social media and marketing plan and fundamentally a better understanding of my numbers. If you are a business owner who needs to be inspired, educated and connected with like minded individuals to take your business to the next level, I cannot recommend joining the Elevatory Mastermind journey enough!"
Kate Berry | Just Gorgeous Things
"This program has opened my eyes and helped me take my business to the next level. The assistance and support with FB ads, strategy and financial management has increased my sales month on month. I wouldn't have been able to achieve what I have in the last six months without their help, they have reignited the passion and motivation I first had for my business, and I am excited for what is to come."
Gemma Bronzoni | The Nappy Society
"The Elevatory have helped me scale up and given me the tools and confidence to make changes that have had a major impact on my revenue. I had invested in coaches before joining the mastermind but never to this extent (financially and emotionally)..but I am more than happy to report that the mastermind has paid for itself several times over. I honestly couldn't be happier with the results, so much so that I will continue to work with Anna and her team for the foreseeable future. I just cannot let them go!
Nikki Capp | The Cover Collective
"My business would not be where it is today... Neither would I, without The Elevatory. I have received value for money, increased sales and have a better control of my business. I didn't anticipate the personal growth and REAL support I would encounter along the way. I am more confident in my life which automatically translates to the way I approach my business and the results feel immeasurable. I am committed to them because I am confident they are committed to me and my business."
"Within three months of their Live program, I had taken on my own shopfront. I managed to generate more than my targeted turnover in that financial year. In early 2020, I embarked on the Mastermind program. Despite the setbacks and significant challenges that the pandemic brought, the Elevatory have been true to their word, have stuck by me, encouraged me and pushed me and I am on track to have nearly have doubled my previous year's turnover. I'm looking forward to taking a slightly different tact on the business strategy too! Thank you Anna and Team.
1
TAILORED
COACHING
EXPERIENCE
7
EXPERT
COACHES TO
SUPPORT YOU
100+
HOURS
OF HANDPICKED
TRAINING
2000+
FEMALE
ENTREPRENEURS
TRANSFORMED
The Elevatory® Mastermind is an intensive hands on next level coaching experience
for women who want to break boundaries and smash through the 6-figure ceiling in their business.
It's specifically designed for women who want to move fast, and want one on one,
step by step guidance and accountability to ensure them results.