Mastermind Case Study
How This Business Experienced A Total Transformation And Grew it's Revenue by 700% in just 4 Months
You're ready to grow - and you know what you need to do… Sales strategy, financial plan, funnels, email marketing, marketing plan .. the list goes on BUT, you're just not sure how to implement it all …
Now, imagine being plugged into a team guiding you through it all step by step.
Sense checking e.v.e.r.y.t.h.i.n.g as you go and EMPOWERING you with all the knowledge, tools, training you need.
A completely bespoke experience completely tailored to your business needs.
The Elevatory® Mastermind gives you just that.
Introducing The Spewy
After a horror road trip experience, with a car full of spew (thanks to her eldest daughter), Jo Hardie set out on a mission to design a product that was absorbent and no-leak. Jo, a mum to 3 young children who quite often shared bugs, found that there wasn't anything on the market that would do the job she needed so decided to create the product herself.
"I researched what the most absorbent materials were and also the best protective barrier to ensure that the spew wouldn't leak through. I took this information to a few different manufacturers and found one that would make it the way I wanted."
Enter the Spewy.
The Spewy is a practical, versatile and hygienic product that contains spew, so that there's no mess for you to clean up when your child is sick.
It can absorb up to 2 litres of liquid! Has a waterproof backing so that there's no leakage and is available in a range of child friendly prints.
The Problem
"Before joining The Elevatory, I knew my business had potential, but I didn't really know what I should be doing or how to grow it."
"I had no real direction or guidance from anyone. I needed more."
"There's so much information out there and I tried to do it myself."
"Ultimately generic information is great but I needed something tailored to my business"
Joining The Elevatory® Mastermind
"I chose to work with The Elevatory because from the moment I first contacted them through to a zoom meeting with Anna, I felt that they were really genuine and saw the potential that I saw in my business. It was a really big decision for me and my family but I felt that I had to back myself."
The 4 core objectives

at The Elevatory


One
FOUNDATIONS
Set your business up for growth now and into the future

Two
GROWTH
Increase your traffic, sales and profit


Three
AUTOMATION
Automate as much of your business as possible


Four
MINDSET
Have you firmly step into the CEO role of your business
Results
Brand Position
Jo started out by working with founder Anna Jonak to strengthen her brand position and understanding of her place in the market.
After conducting a series of key exercises (through market research and surveys) she gained significant insight into the wants and needs of her audience and was able to re-work the copy across her entire website and social media to ensure maximum impact.
These exercises also helped her establish her overarching marketing strategy and build her list by over 30%.
Website Homepage
Following this Jo was connected with our automation and tech expert and went on to redesign her entire website to optimise it for conversions.
Before
After

List Building & Sales Funnels
Next, she built out opt-in landers and lead magnets for her sales funnels and set up and automated 7 key email sequences.
She was handheld through the whole process, with templates, guidance and feedback at every step.

Social Media
Identified as a place where Jo's target audience hung-out, Jo then went on to work with our Social Media specialist where they reworked the look and feel of her Instagram and implemented on ongoing posting and engagement strategy which grew her audience by hundreds - but more than that - Jo has a plan and direction and now knows what she's doing in her social media.
Before
After

Facebook Ad Strategy
Finally, Jo was connected with our Funnel Expert and went on to build out a successful Facebook ads Funnel which is delivering her consistent sales with a combination of ad strategies, resulting in a growth in revenue of 700% in just 4 months. Jo's product has been gaining exposure with new website vistors at 12 cents each and getting new eyes on her social accounts at 1 cent each!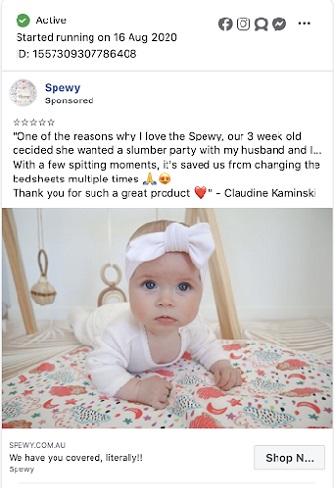 Currently
We are knee deep in 6-month marketing plans, launches, and financial growth planning. Jo's 'Name the new Spewy' competition grew her email list for less than $1 per lead.
The Future
"I finally have direction in where I'm going and what I'm doing with the business and I'm confident because I have the knowledge and expertise from The Elevatory team behind me. I now have a marketing campaign strategy in place to continue to grow my business and am in the early stages of launching a new product."
The Elevatory is more than just a team of business coaches, they truly care about you succeeding! They've built this amazing community of female business owners where you can bounce ideas off and support each other. It's such a scary leap but will be the best thing you ever do!
1
TAILORED
COACHING
EXPERIENCE
6
EXPERT
COACHES TO
SUPPORT YOU
100+
HOURS
OF HANDPICKED
TRAINING
1897+
FEMALE
ENTREPRENEURS
TRANSFORMED
The Elevatory® Mastermind is an intensive hands on next level coaching experience
for women who want to break boundaries and smash through the 6-figure ceiling in their business.
It's specifically designed for women who want to move fast, and want one on one,
step by step guidance and accountability to ensure them results.