Case Study
How This Baby Product Is Now On Track To Become A Million Dollar Business
You're ready to grow - and you know what you need to do… Sales strategy, financial plan, funnels, email marketing, marketing plan .. the list goes on BUT, you're just not sure how to implement it all …
Now, imagine being plugged into a team guiding you through it all step by step.
EMPOWERING you with all the knowledge, tools and training you need.
A completely bespoke experience that meets your business needs.
Our coaching and consultancy service will give you just that.
Case Study Update Jan 2023
With lots of blood sweat and tears Jo ended the 2022 financial year just shy of 700k. And has her sights firmly set on reaching 7 figures for 2023.
And we have no doubt she'll do this and more. She is the epitome of what it takes to build an ecommerce legacy, self belief, grit, determination and the ultimate doer!
Read her journey with The Elevatory below.
Introducing The Spewy
After a horror road trip experience, with a car full of spew (thanks to her eldest daughter), Jo Hardie set out on a mission to design a product that was absorbent and no-leak. Jo, a mum to 3 young children who quite often shared bugs, found that there wasn't anything on the market that would do the job she needed so decided to create the product herself.
"I researched what the most absorbent materials were and also the best protective barrier to ensure that the spew wouldn't leak through. I took this information to a few different manufacturers and found one that would make it the way I wanted."
Enter the Spewy.
The Spewy is a practical, versatile and hygienic product that contains spew, so that there's no mess for you to clean up when your child is sick.
It can absorb up to 2 litres of liquid! Has a waterproof backing so that there's no leakage and is available in a range of child friendly prints.
The Problem
"Before joining The Elevatory, I knew my business had potential, but I didn't really know what I should be doing or how to grow it."
"I had no real direction or guidance from anyone. I needed more."
"There's so much information out there and I tried to do it myself."
"Ultimately generic information is great but I needed something tailored to my business"
Joining The Elevatory®
"I chose to work with The Elevatory because from the moment I first contacted them through to a zoom meeting with Anna, I felt that they were really genuine and saw the potential that I saw in my business. It was a really big decision for me and my family but I felt that I had to back myself."
The 4 core objectives

at The Elevatory


One
FOUNDATIONS
Set your business up for growth now and into the future

Two
GROWTH
Increase your traffic, sales and profit


Three
AUTOMATION
Automate as much of your business as possible


Four
MINDSET
Have you firmly step into the CEO role of your business
Results
Brand Position
Jo started out by working with founder Anna Jonak to strengthen her brand position and understanding of her place in the market.
After conducting a series of key exercises (through market research and surveys) she gained significant insight into the wants and needs of her audience and was able to re-work the copy across her entire website and social media to ensure maximum impact.
These exercises also helped her establish her overarching marketing strategy and build her list by over 30%.
Website Homepage
Following this Jo was connected with our automation and tech expert and went on to redesign her entire website to optimise it for conversions.
Before
After

List Building & Sales Funnels
Next, she built out opt-in landers and lead magnets for her sales funnels and set up and automated 7 key email sequences.
She was handheld through the whole process, with templates, guidance and feedback at every step.
Jo's 'Name the new Spewy' competition grew her email list for less than $1 per lead.

Social Media
Identified as a place where Jo's target audience hung-out, Jo then went on to work with our Social Media specialist where they reworked the look and feel of her Instagram and implemented on ongoing posting and engagement strategy which grew her audience by hundreds - but more than that - Jo has a plan and direction and now knows what she's doing in her social media.
Before
After

Facebook Ad Strategy
Finally, Jo was connected with our Funnel Expert and went on to build out a successful Facebook ads Funnel which is delivering her consistent sales with a combination of ad strategies, resulting in a growth in revenue of 700% in just 4 months. Jo's product has been gaining exposure with new website vistors at 12 cents each and getting new eyes on her social accounts at 1 cent each!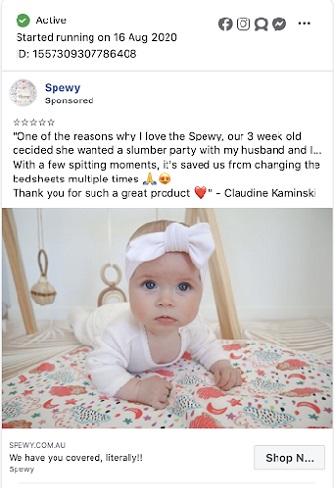 Currently
After a detailed 6-month marketing plan, launches, and financial growth planning in late 2020, Jo's end of financial year results are incredible. Comparing June 2020 to June 2021 - her revenue per month is up 5800% and well into the 5 figures.
The Future
"I finally have direction in where I'm going and what I'm doing with the business and I'm confident because I have the knowledge and expertise from The Elevatory team behind me. I now have a marketing campaign strategy in place to continue to grow my business and am in the early stages of launching a new product."
The Elevatory is more than just a team of business coaches, they truly care about you succeeding! They've built this amazing community of business owners where you can bounce ideas off and support each other. It's such a scary leap but will be the best thing you ever do!
★★★★★
5.0 Rating from 61 Google Reviews
"Two months in and my audience has grown by thousands, my list has doubled and my income is steadily growing. I have dived into Facebook ads which has been a revelation and I've even executed a pre launch launch! It is powerful to be right alongside other owners as they grow their businesses too. The support, the accountability and the candidness of our coaches is making a major difference to how I am working and my goals for the future."
Erin Duncan | Erin Duncan Creative
"In the first 3 months I got more done than what I used to get done in a year. We have made so many incredible changes to improve both my sales and profit margin.
After just 2 months, I had a record month in sales."
"In two months, I have tripled my email subscribers, set up automations which have generated great sales (abandoned cart sequence and website pop-up) set up my first Facebook ad which is doing really well AND sold out of my pre-sales for my next book in a couple of hours!"
Jess Spencer | Adored Illustrations
Just 12 months in our sales are doubling year on year... we've jettisoned a product, relaunched our flagship product, rebranded our website, and overcome one of us unexpectedly being absent from the biz. This year we will totally be a AU$1,000,000 turnover business. What's more we LOVE our biz again!
Jo Cumberbatch | Go Trovo Games
"I have been able to efficiently fast track my business to success within the niche Equestrian industry with a complete rebrand, new website, social media and marketing plan and fundamentally a better understanding of my numbers. If you are a business owner who needs to be inspired, educated and connected with like minded individuals to take your business to the next level, I cannot recommend joining the Elevatory journey enough!"
Kate Berry | Just Gorgeous Things
"This program has opened my eyes and helped me take my business to the next level. The assistance and support with FB ads, strategy and financial management has increased my sales month on month. I wouldn't have been able to achieve what I have in the last six months without their help, they have reignited the passion and motivation I first had for my business, and I am excited for what is to come."
Gemma Bronzoni | The Nappy Society
"The Elevatory have helped me scale up and given me the tools and confidence to make changes that have had a major impact on my revenue. I had invested in coaches before, but never to this extent (financially and emotionally)..but I am more than happy to report that the coaching has paid for itself several times over. I honestly couldn't be happier with the results, so much so that I will continue to work with Anna and her team for the foreseeable future. I just cannot let them go!
Nikki Capp | The Cover Collective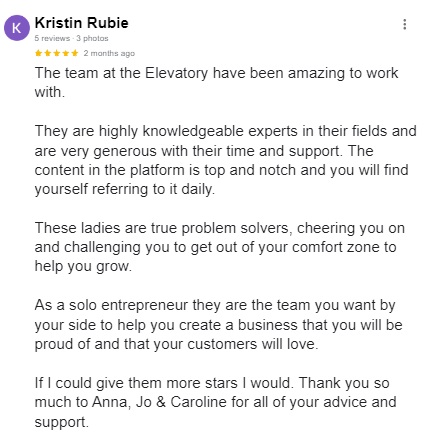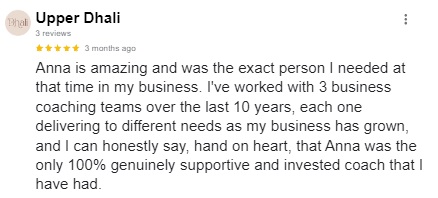 Walk through our entire process with case studies from these current clients
At The Elevatory, we provide personalised coaching for product businesses aiming to amplify growth through strategic marketing.
Our goal, to empower you to master a comprehensive marketing ecosystem, simplifying customer acquisition, conversion, and sales.
ACCESS A TEAM OF EXPERT COACHES
A PROVEN GROWTH FRAMEWORK