Ecommerce Case Study
How This Online Fashion Boutique Experienced 900% Growth in Sales
You're ready to grow - and you know what you need to do… Sales strategy, financial plan, funnels, email marketing, marketing plan .. the list goes on BUT, you're just not sure how to implement it all …
Now, imagine being plugged into a team guiding you through it all step by step.
EMPOWERING you with all the knowledge, tools and training you need.
A completely bespoke experience that meets your business needs.
Our coaching and consultancy service will give you just that.
Case Study Update Jan 2023
Lots of big milestones to report!
Last financial year Daisy's Closet hit just under $1m in sales and this FY they are on track for $1.5m and beyond.
Sarah and Margaret have hired their first staff member.
Their first bricks & motor shop opened in October 2022 and is doing extremely well and are now looking at the possibility of a second shop.
Now that Sarah is confident with her socials game and her email marketing - she has been able to outsource those tasks so she can spend more time growing her business.
These happy snaps are from the store opening. You can read Sarah's journey with The Elevatory below.
Introducing Daisy's Closet
A little over 2 years ago when Sarah was in the midst of 'juggling all the things', she came to the realisation that she needed to work closer to home. Her husband was very busy with his own building company and Sarah needed to be available for school hours to support her children and the busy household.
Along with her mum Margaret, she started Daisy's Closet with the vision of owning a little store in her hometown on the Central Coast of NSW and at local markets.
The Problem
"Just after I'd purchased a lot of stock covid hit and we all went into lock down."
"Terrified of what to do I created a website by watching youtube videos. After creating my website and finding that I was not getting any traffic I then took the leap and sought out an ad agency to market my business through Facebook."
"During my time with the agency I felt really frustrated and disappointed as I was giving them all the creative and not getting the results I needed. I was forking out SO much money, I was actually spending more than I was making and my business was slowly drowning."
"I felt like I was just a cog in a machine and that my business was not important. So I finally built up the confidence to end my contract and try running the ads myself. I mean it couldn't be any worse than the results I was getting."
Joining The Elevatory®
Sarah decided that in order to grow she needed to learn & understand paid and organic marketing herself - so she was in control of her traffic flow and her business results.
"I looked into courses for Google, Facebook, social media, business coaches and separately it was going to cost a fortune. I really wanted one place that had it all."
Sarah notes she had "zoom call after zoom call" with business coaches and other agencies looking for someone who had her best interests at heart and someone who wasn't just going to take her money with no results.
"This is where I came across Anna's dream team! An amazing group of women that could help me with everything I needed and support me on my journey all in the one place."
The 4 core objectives

at The Elevatory


One
FOUNDATIONS
Set your business up for growth now and into the future

Two
GROWTH
Increase your traffic, sales and profit


Three
AUTOMATION
Automate as much of your business as possible


Four
MINDSET
Have you firmly step into the CEO role of your business
Results
Sarah started on her journey with The Elevatory mid 2021.
Website Overhaul
"We tore apart my business and started building out the foundations it was so desperately lacking. And then got straight to work on my website."
Before
After
Sarah's conversion rates skated around 1% before we started working together and we got it up to 2.4% in the lead up to Black Friday and Christmas!
She has also gone from 8,000 site visits to 50,000 site visits a month.
And we've increased her return customer rate by 3%.

Facebook Ads
After taking the leap to manage her ads herself - Sarah has become a complete Ninja with her facebook ads. And has experienced a 900% growth in sales!!!!
"In 6 short months I went from drowning in financial losses and maximum 7K sales months to 70K sales months and no ad agency fees!!"
Sarah feels she knows her audience better than an ad agency ever could, what's more she can quickly see what's working and what's selling and now leverages this insight to improve her ads performance and drive more sales.

Email Marketing
Sarah's gone from 88 new subscribers a month to 600 new subscribers a month.
And she regularly makes $757 per email she sends [and she sends them frequently with a very low unsubscribe rate].
We also built out a series of automations that we track continuously and are always adding to. As a result we have helped with 6% reduction in cart abandonment.
We're also focusing on A/B testing and cleaning out her list to keep open rates high.

Influencer Marketing
As part of her expanding her reach - Sarah also decided she wanted to try influencer marketing.
Sarah had been quite nervous about approaching Influencers before working with Social Media Coach Vikki. Together they started researching all potential influencers, their engagement rates, likes/followers and the cost per story or post. They finally decided on one local influencer that they had both had previous experience with and Sarah reached out to work with them.
Using our Influencer blueprint, Sarah was able to confidently reach out and approach the influencer with a clear vision for what their collaboration would look like.
This first venture into Influencer Marketing was successful for Sarah, and she now has a hit list of brands, businesses and individuals to reach out to, to continue utilizing this marketing medium.

Financials
Before Sarah came to us she was running in the red and was avoiding her numbers. After forcing her into a cash flow sheet and analysing her PNL it was shocking to see - but gave Sarah much needed insights and benchmarks to make decisions from and a great baseline to grow from.
With all the changes we've made business is now well and truly on the up - what's more Sarah is now very focussed on using her numbers and metrics so we can continue to help her grow and scale.
The Future
With Sarah's fast growth we're constantly checking in on her analytics, metrics and financials to ensure peak performance.
We're also working on adding layers to her marketing plans with influencer marketing, loyalty and rewards and TikTok next to visit.
'I honestly feel so blessed I found this amazing team and I can't wait to keep learning and growing with them over the next few months.'
★★★★★
5.0 Rating from 61 Google Reviews
"Two months in and my audience has grown by thousands, my list has doubled and my income is steadily growing. I have dived into Facebook ads which has been a revelation and I've even executed a pre launch launch! It is powerful to be right alongside other owners as they grow their businesses too. The support, the accountability and the candidness of our coaches is making a major difference to how I am working and my goals for the future."
Erin Duncan | Erin Duncan Creative
"In the first 3 months I got more done than what I used to get done in a year. We have made so many incredible changes to improve both my sales and profit margin.
After just 2 months, I had a record month in sales."
"In two months, I have tripled my email subscribers, set up automations which have generated great sales (abandoned cart sequence and website pop-up) set up my first Facebook ad which is doing really well AND sold out of my pre-sales for my next book in a couple of hours!"
Jess Spencer | Adored Illustrations
Just 12 months in our sales are doubling year on year... we've jettisoned a product, relaunched our flagship product, rebranded our website, and overcome one of us unexpectedly being absent from the biz. This year we will totally be a AU$1,000,000 turnover business. What's more we LOVE our biz again!
Jo Cumberbatch | Go Trovo Games
"I have been able to efficiently fast track my business to success within the niche Equestrian industry with a complete rebrand, new website, social media and marketing plan and fundamentally a better understanding of my numbers. If you are a business owner who needs to be inspired, educated and connected with like minded individuals to take your business to the next level, I cannot recommend joining the Elevatory journey enough!"
Kate Berry | Just Gorgeous Things
"This program has opened my eyes and helped me take my business to the next level. The assistance and support with FB ads, strategy and financial management has increased my sales month on month. I wouldn't have been able to achieve what I have in the last six months without their help, they have reignited the passion and motivation I first had for my business, and I am excited for what is to come."
Gemma Bronzoni | The Nappy Society
"The Elevatory have helped me scale up and given me the tools and confidence to make changes that have had a major impact on my revenue. I had invested in coaches before, but never to this extent (financially and emotionally)..but I am more than happy to report that the coaching has paid for itself several times over. I honestly couldn't be happier with the results, so much so that I will continue to work with Anna and her team for the foreseeable future. I just cannot let them go!
Nikki Capp | The Cover Collective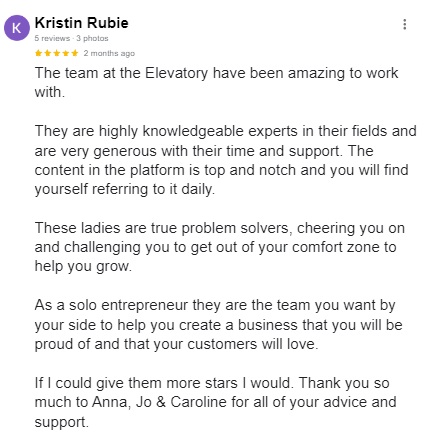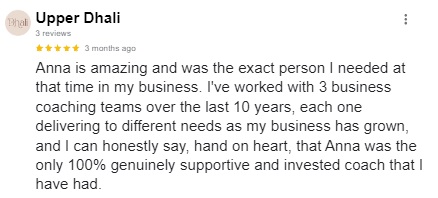 Walk through our entire process with case studies from these current clients
At The Elevatory, we provide personalised coaching for product businesses aiming to amplify growth through strategic marketing.
Our goal, to empower you to master a comprehensive marketing ecosystem, simplifying customer acquisition, conversion, and sales.
ACCESS A TEAM OF EXPERT COACHES
A PROVEN GROWTH FRAMEWORK