Case Study
How This Shopfront Grew Online Sales And Broke Sales Records
You're ready to grow - and you know what you need to do… Sales strategy, financial plan, funnels, email marketing, marketing plan .. the list goes on BUT, you're just not sure how to implement it all …
Now, imagine being plugged into a team guiding you through it all step by step.
EMPOWERING you with all the knowledge, tools and training you need.
A completely bespoke experience that meets your business needs.
Our coaching and consultancy service will give you just that.
Introducing Sweet Charlotte Studio
Sweet Charlotte Studio brings women 40+, a carefully curated range of unique and stylish clothes designed to help them feel confident and beautiful.
Desley, the owner shares 'Us women are so hard on ourselves, but nothing gives us more satisfaction than seeing our lovely customers standing in front of the mirror holding their shoulders back with their head held a little higher, liking what they see. That is the power of fashion and style. It can be quite transformative.'
Our focus is on beautiful, relaxed lifestyle clothing with a wide range of natural fibres, linens & bamboo, with gorgeous silk pieces for those special occasions. We have all earned the right as we enter our .......wiser years, to be comfortable, cool, and relaxed but look darn gorgeous at the same time.'
The Problem
Before joining The Elevatory Desley already had 2 successful stores in South East Queensland and had most recently (2019) set up an online store.
But Desley knew she was missing opportunities with her online store and was keen to implement The Elevatory's Marketing system into her business to help her scale.
She was nervous about outsourcing to an ad agency and was keen to explore managing her marketing in-house.
Joining The Elevatory®
Desley was referred to our team from another client in SE Queensland who worked with The Elevatory to scale her online store alongside her store front.
The 4 core objectives

at The Elevatory


One
FOUNDATIONS
Set your business up for growth now and into the future

Two
GROWTH
Increase your traffic, sales and profit


Three
AUTOMATION
Automate as much of your business as possible


Four
MINDSET
Have you firmly step into the CEO role of your business
Results
Desley started on her journey with The Elevatory in February 2022.
Website Overhaul
With Coach Jo's help Desley totally upgraded her website.
"Jo helped me put together a brief with best practice for a high-performing website. She then introduced my son to The Elevatory's website developer, and they were able to get the job done with a minimum of fuss. I'm thrilled with the results".
Home Page Before
Home Page After
First impressions count and we had to make sure the website was easy to navigate, users were able to find what they wanted easily and progress seemlessly through the path to conversion.
The home page flow and inclusions plus the main menu were completely reformated with this in mind. This lead to users shopping more and increasing the average order value by over 9-10% in the months following the website upgrade.

SEO
Next up was SEO and making sure the website was putting its best foot forward for organic Google traffic.
Prior to completing this task, the number of organic users on average Sep21-Aug22 was < 4000 users per month.
In just the 3 months since completing SEO, organic users are now > 5500 per month. This will only improve with age and in early 2023 this has again doubled.

Email Marketing
After moving their email marketing platform to Klaviyo in Jul22 and setting up a series of automations to nurture leads and customers around the clock, the proportion of total revenue that email contributed to sales jumped from 3.9% to 8.5% in the months before Christmas.
With email contributing to half of their Black Friday sales.
Their weekly email campaigns are now also regularly delivering them >10k revenue for new products in stock.

Paid Ads
Desley's son Brodie took on the task of learning how to promote Sweet Charlotte Studio on Meta & Google with The Elevatory's guidance.
When Coach Caroline was asked for some commentary on Sweet Charlotte Studio's Meta campaigns this was the response
'Oh my gosh they have so much good news! Basically, they are just smashing their ROAS!"
Brodie is making the most of the catalogue ad format as that works well for their audience as well as dynamic catalogues where the algorithm shows the user what they think they will be interested in!
He scaled their budget to $1600 a day in lead up to Christmas 2022 and are consistently spending $500-$1000 each day since, with a comfortable ROAS of between 6-8x.
And here you can see the impact of paid ads with our website optimisation work.
Monthly users are now 2.5x higher and well into 50k+ territory.

Financials
After a few short months – the milestones started rolling in..
Facebook Ad breakthroughs in the early days of the campaigns running with an 8x ROAS and optimisations still to be done!
With the launch of the new website a new record for FB Ad sales revenue in the multi-10s of thousands and a 10x ROAS
In August 2022 a new sales record in the history of the business with a 250% increase in monthly sales YOY
An increase in overseas sales which now represent about 25% of total sales.
The shopping component for

Google ads had a conversion rate of 3.71% and a ROAS of over 11x.
And what's exciting is that this is just the beginning because there is still further scaling and optimisation to be done with everything that's been freshly implemented. Plus, other channels slowly to be introduced into the marketing mix like SMS, TikTok and beyond.
The Future
The focus for the business right now is streamlining systems and processes to handle their fast growth and ensuring they maintain the highest in customer service, and that their growing team love being part of this exciting business.
Post this we expect continued expansion into overseas markets.
★★★★★
5.0 Rating from 61 Google Reviews
"Two months in and my audience has grown by thousands, my list has doubled and my income is steadily growing. I have dived into Facebook ads which has been a revelation and I've even executed a pre launch launch! It is powerful to be right alongside other owners as they grow their businesses too. The support, the accountability and the candidness of our coaches is making a major difference to how I am working and my goals for the future."
Erin Duncan | Erin Duncan Creative
"In the first 3 months I got more done than what I used to get done in a year. We have made so many incredible changes to improve both my sales and profit margin.
After just 2 months, I had a record month in sales."
"In two months, I have tripled my email subscribers, set up automations which have generated great sales (abandoned cart sequence and website pop-up) set up my first Facebook ad which is doing really well AND sold out of my pre-sales for my next book in a couple of hours!"
Jess Spencer | Adored Illustrations
Just 12 months in our sales are doubling year on year... we've jettisoned a product, relaunched our flagship product, rebranded our website, and overcome one of us unexpectedly being absent from the biz. This year we will totally be a AU$1,000,000 turnover business. What's more we LOVE our biz again!
Jo Cumberbatch | Go Trovo Games
"I have been able to efficiently fast track my business to success within the niche Equestrian industry with a complete rebrand, new website, social media and marketing plan and fundamentally a better understanding of my numbers. If you are a business owner who needs to be inspired, educated and connected with like minded individuals to take your business to the next level, I cannot recommend joining the Elevatory journey enough!"
Kate Berry | Just Gorgeous Things
"This program has opened my eyes and helped me take my business to the next level. The assistance and support with FB ads, strategy and financial management has increased my sales month on month. I wouldn't have been able to achieve what I have in the last six months without their help, they have reignited the passion and motivation I first had for my business, and I am excited for what is to come."
Gemma Bronzoni | The Nappy Society
"The Elevatory have helped me scale up and given me the tools and confidence to make changes that have had a major impact on my revenue. I had invested in coaches before, but never to this extent (financially and emotionally)..but I am more than happy to report that the coaching has paid for itself several times over. I honestly couldn't be happier with the results, so much so that I will continue to work with Anna and her team for the foreseeable future. I just cannot let them go!
Nikki Capp | The Cover Collective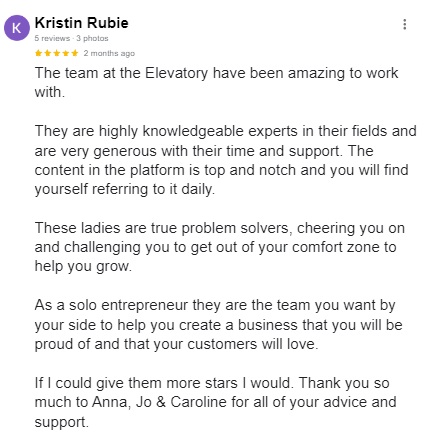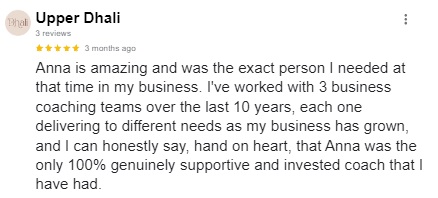 Walk through our entire process with case studies from these current clients
At The Elevatory, we provide personalised coaching for product businesses aiming to amplify growth through strategic marketing.
Our goal, to empower you to master a comprehensive marketing ecosystem, simplifying customer acquisition, conversion, and sales.
ACCESS A TEAM OF EXPERT COACHES
A PROVEN GROWTH FRAMEWORK