Case Study
How This Artist's Gift Store went from 100 to 400+ orders per month
You're ready to grow - and you know what you need to do… Sales strategy, financial plan, funnels, email marketing, marketing plan .. the list goes on BUT, you're just not sure how to implement it all …
Now, imagine being plugged into a team guiding you through it all step by step.
EMPOWERING you with all the knowledge, tools and training you need.
A completely bespoke experience that meets your business needs.
Our coaching and consultancy service will give you just that.
Introducing Mount Vic and Me
Kara has been a graphic designer since 1993, and until 2013 always worked for agencies. Then one day she woke up and decided she just couldn't work for anyone else anymore. And so, Mount Vic and Me was born.
"It was time to create my own business. I started with around 5 greeting card designs, walking them around to Blue Mountains shops to take them in their stores. Whatever funds came in I put back to create more cards. Everything about Mount Vic and Me had been organic."
8 years on and the range now includes t shirts, mugs, tea towels, Blue Mountains socks, cushions, upholstery, fabrics and more. Kara designs everything bright and bold with a play on political figures, feminism and Australiana themed goodies.
The Problem
"The beautiful World-Heritage listed Blue Mountains NSW were hit by bushfires in Oct 2019 wiping out 80% of our tourism-driven region. Then came the floods and then came COVID.
Three national trade shows were wiped out, one after the other. We went from a healthy business to treading water. It was exhausting. Like so many small businesses we were told to 'pivot'. So we did that till we were spinning!
We have an amazing customer base and knew if we could get the product in front of a larger audience, they'd love it. But how would we do that? I just wanted to get on with business but felt stuck."
Joining The Elevatory®
Kara's friend had been working with The Elevatory and suggested she take a look at our program as she knew Kara had done a lot of business programmes and mentorship in the past and felt drained by it all.
"I initially approached Anna to manage our ads. I hadn't done much of it before and didn't understand how it all worked. Anna suggested doing The Elevatory's coaching program first so they could take a good look at my business, smooth out any wrinkles, optimise my assets, and ensure email marketing was in place so that the ads would be most effective."
"Anna gives a good 1-hour session before you commit to anything. This really helped me understand what was ahead in getting all my ducks aligned. It felt huge but achievable. I felt reassured there was a team at The Elevatory that could help me each step of the journey."
The 4 core objectives

at The Elevatory


One
FOUNDATIONS
Set your business up for growth now and into the future

Two
GROWTH
Increase your traffic, sales and profit


Three
AUTOMATION
Automate as much of your business as possible


Four
MINDSET
Have you firmly step into the CEO role of your business
Results
Mindset
Kara states "There has been a huge transformation in my business - starting with my mindset." Kara was so close to her business; she didn't really understand what the business was – it was directionless without a clear focus. Working with Anna to look through financials, product lines, her market position and points of difference made a huge difference in gaining clarity and confidence in her new direction.

Financials
When Kara came to us, she felt like a lot of our clients. She didn't feel confident in the analytics & data behind her numbers or how to interpret them to drive better results for her business. (She'd even had a corporate specialist say he was surprised Kara was still in business.) But sharing that fear with Anna gave her the confidence to understand her numbers and taught her many valuable lessons:
To relinquish and allow others to help
That she can't do everything
Invest in ways to enhance and expand business
Do the job she is good at and outsource the rest
It was a big step.
A large part of Kara's financial review process was analysing the profit margin of every one of her 1100+ products – what sales were like and if the product was part of the new focus Kara wanted for her business. Would they help her grow her business? Kara is now phasing out those products which don't help her reach her goals and by doing this and focusing on what makes her special & unique – her own artwork – her sales have increased massively.

Website Overhaul
With the help of Optimisation Coach Jo, the website was streamlined & optimised to ensure users were able to navigate her large product range easily. The main menu and product categories were revised and are now displayed in an intuitive manner.
Homepage Before
Homepage After

Email Marketing Infrastructure
Once Kara's website was optimised, our next focus became on building a strong email marketing strategy.
With our guidance, Kara went on to build out 8 must-have email automations in Klaviyo. The automations cover all stages of the sales funnel from cold leads through to warm leads and return customers.
And the result, Kara's now making money consistently through emails, her list has grown more than 70% and currently has approximately 2,000 highly engaged customers and leads.

Facebook Ads
And then the final piece of the puzzle was building a Facebook Ad Strategy for her retail sales.
"Whenever anyone sees our products, they love them. But getting that exposure with trade shows and markets shut due to COVID meant it was getting hard to get that exposure across Australia. When the team started the ads, we had no idea what the response would be. And bang, then in came the orders. Wow! "
The Elevatory Facebook Ads team ran a number of conversion campaigns in August & September for Kara, testing out some of her bestsellers. The results speak for themselves – a large number of conversions and a ROAS (return on ad spend) ranging between 3x and 9.6x!
Yep the orders were rushing in! Kara quickly hired more packing staff and a VA to help manage customer service and logistics.
"I had no idea how quickly business would grow and let's just say I'm now being kept on my toes. The growth has been incredible".
Kara has found a whole new tribe of customers across Australia that totally love the brand and the newsletters are getting a fabulous response.
Since starting at The Elevatory and pivoting and putting in the hard yards, Kara has gone from $10k months to $50k+ months. And that puts Q3 this year 300% up on the same time last year. And this is just the beginning…

The Future
Kara's doing so well that it's unlikely she'll reopen the shop - she's had to turn it into a warehouse space to fit all of the online orders and stock!
"I've got big goals to double my retail sales this year. Alongside this I want to streamline my offering, increase production and explore a digital product."
"I also want to acknowledge that the majority of Blue Mountains businesses have had a very tough time of late, and I hope that everyone can get the support they need to bounce back."
★★★★★
5.0 Rating from 61 Google Reviews
"Two months in and my audience has grown by thousands, my list has doubled and my income is steadily growing. I have dived into Facebook ads which has been a revelation and I've even executed a pre launch launch! It is powerful to be right alongside other owners as they grow their businesses too. The support, the accountability and the candidness of our coaches is making a major difference to how I am working and my goals for the future."
Erin Duncan | Erin Duncan Creative
"In the first 3 months I got more done than what I used to get done in a year. We have made so many incredible changes to improve both my sales and profit margin.
After just 2 months, I had a record month in sales."
"In two months, I have tripled my email subscribers, set up automations which have generated great sales (abandoned cart sequence and website pop-up) set up my first Facebook ad which is doing really well AND sold out of my pre-sales for my next book in a couple of hours!"
Jess Spencer | Adored Illustrations
Just 12 months in our sales are doubling year on year... we've jettisoned a product, relaunched our flagship product, rebranded our website, and overcome one of us unexpectedly being absent from the biz. This year we will totally be a AU$1,000,000 turnover business. What's more we LOVE our biz again!
Jo Cumberbatch | Go Trovo Games
"I have been able to efficiently fast track my business to success within the niche Equestrian industry with a complete rebrand, new website, social media and marketing plan and fundamentally a better understanding of my numbers. If you are a business owner who needs to be inspired, educated and connected with like minded individuals to take your business to the next level, I cannot recommend joining the Elevatory journey enough!"
Kate Berry | Just Gorgeous Things
"This program has opened my eyes and helped me take my business to the next level. The assistance and support with FB ads, strategy and financial management has increased my sales month on month. I wouldn't have been able to achieve what I have in the last six months without their help, they have reignited the passion and motivation I first had for my business, and I am excited for what is to come."
Gemma Bronzoni | The Nappy Society
"The Elevatory have helped me scale up and given me the tools and confidence to make changes that have had a major impact on my revenue. I had invested in coaches before, but never to this extent (financially and emotionally)..but I am more than happy to report that the coaching has paid for itself several times over. I honestly couldn't be happier with the results, so much so that I will continue to work with Anna and her team for the foreseeable future. I just cannot let them go!
Nikki Capp | The Cover Collective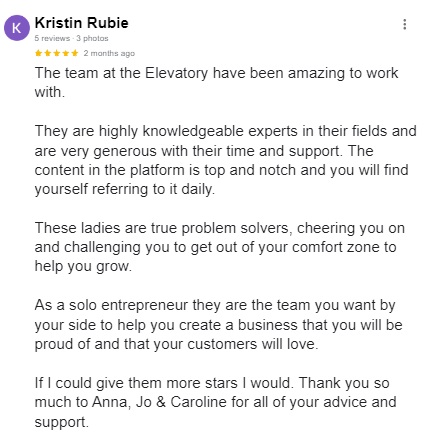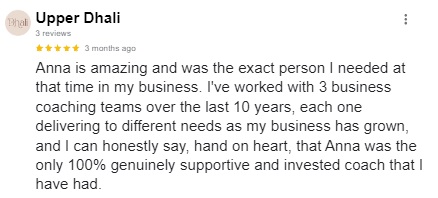 Walk through our entire process with case studies from these current clients
At The Elevatory, we provide personalised coaching for product businesses aiming to amplify growth through strategic marketing.
Our goal, to empower you to master a comprehensive marketing ecosystem, simplifying customer acquisition, conversion, and sales.
ACCESS A TEAM OF EXPERT COACHES
A PROVEN GROWTH FRAMEWORK