Case Study
How This Equestrian Inspired Business Transformed with new Revenue Streams
You're ready to grow - and you know what you need to do… Sales strategy, financial plan, funnels, email marketing, marketing plan .. the list goes on BUT, you're just not sure how to implement it all …
Now, imagine being plugged into a team guiding you through it all step by step.
EMPOWERING you with all the knowledge, tools and training you need.
A completely bespoke experience that meets your business needs.
Our coaching and consultancy service will give you just that.
Introducing Just Gorgeous Things
Just Gorgeous Things (JGT) began when Kate recognised that there was a lack of beautiful stylish equestrian inspired homewares and gifts available in Australia.
Being an equestrian herself and having lived in the UK for seven years, she had seen first-hand how many quality products were available there, as well as in Europe and America.
So, her goal was to bring these products to Australia and make them available to the many equestrian enthusiasts here.
The Problem
Having been brought up in small business, Kate had some idea about how businesses worked, however when she decided to develop JGT she had very limited funds to invest and a huge list of things that required investment!
Like many start-ups she began in her garage with a small office and small stock holding. Packing a truck once or twice a month to host a pop-up shop at a variety of Equestrian events.
"I was doing everything I could to tick all the boxes across all areas needed to launch and grow - buying stock, developing the website, marketing, socials, accounting... the list just went on and on.
Six months in and I was feeling overwhelmed and lost. And I was concerned that I wasn't succeeding at creating the business that I had envisioned JGT to be. At this point I began to doubt whether or not I could succeed and I felt very alone."
Joining The Elevatory®
I began looking for online courses, business mentors and literature based around my need for help in ALL facets of my business - including my own confidence as an entrepreneur.
Over and over again there was the promise of success from other businesses…just 'sign up now'… but nothing that truly resonated with me.
On further investigation the core values of The Elevatory and the language used felt authentic, empathetic and relatable.
Values that still underpin The Elevatory today. Needless to say I signed up and the rest is history.
The 4 core objectives

at The Elevatory


One
FOUNDATIONS
Set your business up for growth now and into the future

Two
GROWTH
Increase your traffic, sales and profit


Three
AUTOMATION
Automate as much of your business as possible


Four
MINDSET
Have you firmly step into the CEO role of your business
Results
To say that The Elevatory did exactly 'what it said on the tin' is an understatement.
With their guidance, and my determination, I have done a lot of challenging work on both myself and my business.
The coaching has not only educated me in the areas of my business that I know I needed help with (particularly numbers and financial analysis), but Anna and the team have also guided me personally and professionally through some really tough decisions.
And the result - my business has increased its profit margins, and now has multiple revenue streams and is truly on the 'up'!!
Brand Position
When JGT came to us it was an interesting mix of an online e-commerce store and a mobile pop-up shop all whilst Kate was increasingly being asked to do more and more residential interior styling. So, our first task with Kate was to get clear on her core offer and brand message.
After a thorough market and financial analysis, Kate's ecommerce offering was refined to focus on the highest margin stock across furniture/homewares/tableware products that would simultaneously complement her flourishing interior styling business.
Alongside this her interior styling took a firm place at the centre of her business model.
Branding
Following on from above together we identified that Kate's brand and website needed updating to reflect her new brand direction and high-end feel.
So, Kate was put in touch with one of our design partners to refresh the look and feel of JGT's website.
Before
After

Facebook Ads
With a clear positioning strategy in place and a successful rebrand Kate decided next to engage our in-house Ads team to get the ball rolling fast with her funnels and ad strategy.
Whilst we do teach ads within our program – Kate was certain she wanted to outsource this area of her business straightaway.
This has freed up Kate's time to do the things she does best – styling!
Since then, all of Kate's styling bookings have come through a highly successful engagement strategy. And this is run in conjunction with a conversion strategy and which see's Kate's return on ad spend consistently over 500% and has been as high as 1300%!

Growth
Some of JGT's biggest achievements to date:
Sales within the online boutique are up an average of 60% YOY
Plus, with the introduction of Interior Styling Services – Kate is now working with residential and corporate clients. With the latter opening up a whole new revenue stream culminating with a six-figure contract signed this year!
JGT's website traffic increase 'off the charts'
And Kate's 'often forgotten' email list has also increased by over 400% in 2020.

Mindset
Alongside all of the work Kate has done on her business to date, she's simultaneously worked hard with the team on her mindset in order to keep taking bold, positive, continuous action towards reaching her goals.
"Starting out I was full of 'imposter syndrome', had huge doubt around making decisions because of a fear of not having the finances to make them and feeling overwhelmed due to my disbelief that I could actually 'do this'.
Following some straight-talking coaching sessions with Anna and positive reinforcement through kicking business goals and seeing great results, Kate's approach to challenges, setbacks and reaching her big picture vision is met with self-trust, confidence and determination.
What's Next
"This year sees me employing a VA, increasing my product range as well as the size of my off-site stock room, continuing investment in Facebook advertising and considering budgeting for Google ads.
This is a credit to Anna and the Elevatory team, who have consistently and positively supported me through all of my decision making, planning ….and then some!
Without the Elevatory and its fantastic team of professionals, I doubt that I would still have a business!
And an added bonus of the process is being surrounded by like-minded business owners and having access to a pool of talent and information in The Elevatory's partners and fellow ecommerce business owners, which has proved invaluable time and again."
★★★★★
5.0 Rating from 61 Google Reviews
"Two months in and my audience has grown by thousands, my list has doubled and my income is steadily growing. I have dived into Facebook ads which has been a revelation and I've even executed a pre launch launch! It is powerful to be right alongside other owners as they grow their businesses too. The support, the accountability and the candidness of our coaches is making a major difference to how I am working and my goals for the future."
Erin Duncan | Erin Duncan Creative
"In the first 3 months I got more done than what I used to get done in a year. We have made so many incredible changes to improve both my sales and profit margin.
After just 2 months, I had a record month in sales."
"In two months, I have tripled my email subscribers, set up automations which have generated great sales (abandoned cart sequence and website pop-up) set up my first Facebook ad which is doing really well AND sold out of my pre-sales for my next book in a couple of hours!"
Jess Spencer | Adored Illustrations
Just 12 months in our sales are doubling year on year... we've jettisoned a product, relaunched our flagship product, rebranded our website, and overcome one of us unexpectedly being absent from the biz. This year we will totally be a AU$1,000,000 turnover business. What's more we LOVE our biz again!
Jo Cumberbatch | Go Trovo Games
"I have been able to efficiently fast track my business to success within the niche Equestrian industry with a complete rebrand, new website, social media and marketing plan and fundamentally a better understanding of my numbers. If you are a business owner who needs to be inspired, educated and connected with like minded individuals to take your business to the next level, I cannot recommend joining the Elevatory journey enough!"
Kate Berry | Just Gorgeous Things
"This program has opened my eyes and helped me take my business to the next level. The assistance and support with FB ads, strategy and financial management has increased my sales month on month. I wouldn't have been able to achieve what I have in the last six months without their help, they have reignited the passion and motivation I first had for my business, and I am excited for what is to come."
Gemma Bronzoni | The Nappy Society
"The Elevatory have helped me scale up and given me the tools and confidence to make changes that have had a major impact on my revenue. I had invested in coaches before, but never to this extent (financially and emotionally)..but I am more than happy to report that the coaching has paid for itself several times over. I honestly couldn't be happier with the results, so much so that I will continue to work with Anna and her team for the foreseeable future. I just cannot let them go!
Nikki Capp | The Cover Collective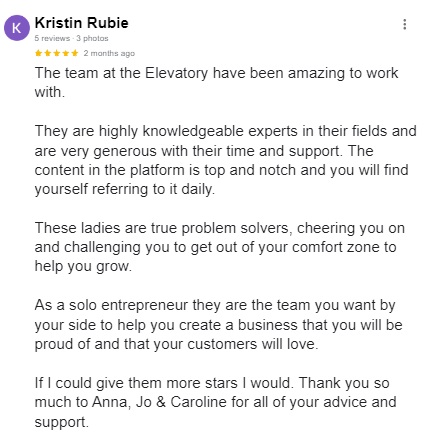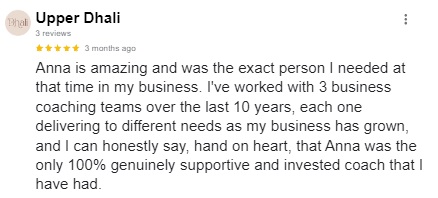 Walk through our entire process with case studies from these current clients
At The Elevatory, we provide personalised coaching for product businesses aiming to amplify growth through strategic marketing.
Our goal, to empower you to master a comprehensive marketing ecosystem, simplifying customer acquisition, conversion, and sales.
ACCESS A TEAM OF EXPERT COACHES
A PROVEN GROWTH FRAMEWORK