Case Study
How This 'Inappropriate' Gift Business went from Zero to Multi 6 Figures
You're ready to grow - and you know what you need to do… Sales strategy, financial plan, funnels, email marketing, marketing plan .. the list goes on BUT, you're just not sure how to implement it all …
Now, imagine being plugged into a team guiding you through it all step by step.
EMPOWERING you with all the knowledge, tools and training you need.
A completely bespoke experience that meets your business needs.
Our coaching and consultancy service will give you just that.
Case Study Update Jan 2023
Megan's turnover for 20-21 FY was $36K.
Whilst for Jan 2021-2022 it was a staggering $207K!!!
She can now do $35k in a month during peak period alone!
Selling $32 candles, that is A LOT of candles :).
She's recently purchased a shed to put on her property to manage production and has just signed off on a huge wholesale deal.
As she continues to tweak and refine her marketing strategies and product lines we expect another big growth spurt in 2023 and beyond!
Read her journey with The Elevatory below.
Introducing The Sassery
After running a web design and SEO business for 12 years, chronic illness took its toll and there came a point where Megan had to take control of her future.
Weeks of bed rest led to weeks of researching ideas. Of particular interest was watching handmade business videos – Megan 'loved watching how it was all done'.
This coupled with Megan's self-confessed strengths of 'being a potty mouth with a great sense of humour' led to her new business idea.
There were many candle businesses selling gorgeous, high end candles, but that was not Megan's style.
'I am all for a laugh and thought I could do nice looking candles but spice them up with some funny and rude quotes and sayings, so I started The Sassery.'
She started with candles and soon ventured into mugs, t shirts, soaps and rude bath bombs as well!
The Problem
Before joining The Elevatory, Megan was running The Sassery as a hobby business and was not getting the exposure or sales she had hoped for. Megan was feeling overwhelmed with the pressure to get the business going so it could replace her other income.
She tried Facebook Ads but given the nature of her product her ads were often disapproved, which meant she was relying solely on organic exposure – which was slow and sporadic.
Joining The Elevatory®
"I knew I needed some help with marketing and just getting myself to the next level".
Megan saw an ad and joined a free live training in The Elevatory's free Facebook Community.
"I didn't sign up to coaching after that though. I sat on it for a while and tried to continue on my own with the extra I had learnt, and I did ok but still not great".
"November 2020 I just knew I had to invest in myself and in my business if I wanted to take it further and get out of the side gig lane and into a real profitable, full time business. I had been following The Elevatory for ages as well as another male business coach, but The Elevatory kept pulling me in and I resonated with the ladies so much more."
The 4 core objectives

at The Elevatory


One
FOUNDATIONS
Set your business up for growth now and into the future

Two
GROWTH
Increase your traffic, sales and profit


Three
AUTOMATION
Automate as much of your business as possible


Four
MINDSET
Have you firmly step into the CEO role of your business
Results
Mindset
Megan states she's had a 'Complete shift in mindset. Being in the company of likeminded business owners every day is amazing'.
Before joining The Elevatory, Megan was feeling very overwhelmed and unsure on what to do next. She knew she had the passion and drive to make her business a success but wasn't sure what to do first or how to build the foundations properly.
Now Megan says, 'I feel in control, know exactly what I need to do next, not overwhelmed in the slightest and confident that my business is built on solid foundations and processes in place for me to scale and keep scaling.'

Website Overhaul
Being a web designer herself, Megan had a functioning website, but it was in desperate need of an upgrade.
The results of Megan's website audit with Website Optimisation coach Jo showed a number of issues that needed to be rectified including a very slow load time, images that needed upgrading, copy that needed reviewing and multiple optimisation points.
Together these issues affected user experience and also her chances of being ranked well by Google which meant organic traffic to The Sassery was low.
After changing her theme, refining her offer and fixing the user flow of the website, website visitors have increased steadily and continuously. (Megan started her journey at The Elevatory in November 2020.)

Financials
Definitely the number 1 problem that we see at The Elevatory, is the number of business owners who come to us without a proper grasp on their numbers.
Megan was no exception! She definitely struggled with cash flow - what came in always went straight out, and admits she was very slack with her bookkeeping. She had no idea about COGS and how to report them properly. Megan hated financials and only filled out her accounting software once a month.
"Anna has made me look at numbers in a different way and I am in my spreadsheets every week at least these days.".
The outcome?
"My biggest month in 2020, which was the lead up to Christmas (first month with The Elevatory) I made approx. $2k. Eight months down the track and I am smashing through my 5 figure target months."

Facebook Ads
Megan was the first to admit she 'knew bugger all' about Facebook Ads.
With the help of our Facebook Team, Megan navigated her 'adult' collection of products by creating a 'clean' product page that we could send FB traffic to without getting ads disapproved. We are constantly testing audiences, ad formats and ad content to reach a broad range of people. We always test audiences and creatives so that we're feeding the algorithm and learning which products and quotes do well.
This has resulted in Megan's email list growing from just over 100 to over 1000 and her FB return on ad spend is 5-10x on her warm audience.

Social Media Review
Working with Social Coach Vikki, Megan made a number of changes to ensure consistency in her brand. This included improved photography, using more of her brand palette, more humour, highlight tiles and reels!
Before
After

The Future
"I am so excited for the future. I have just come off my biggest month to date and smashing way past my first 5 figure month. This is no side gig anymore that's for sure! I am looking at potentially getting a warehouse in the next few months to help ramp up production and not have to make hundreds of candles in my spare room/office anymore. If I can 8x my business in 6 months, imagine what I can do in the next 6! Million $ candle business here I come haha."
★★★★★
5.0 Rating from 61 Google Reviews
"Two months in and my audience has grown by thousands, my list has doubled and my income is steadily growing. I have dived into Facebook ads which has been a revelation and I've even executed a pre launch launch! It is powerful to be right alongside other owners as they grow their businesses too. The support, the accountability and the candidness of our coaches is making a major difference to how I am working and my goals for the future."
Erin Duncan | Erin Duncan Creative
"In the first 3 months I got more done than what I used to get done in a year. We have made so many incredible changes to improve both my sales and profit margin.
After just 2 months, I had a record month in sales."
"In two months, I have tripled my email subscribers, set up automations which have generated great sales (abandoned cart sequence and website pop-up) set up my first Facebook ad which is doing really well AND sold out of my pre-sales for my next book in a couple of hours!"
Jess Spencer | Adored Illustrations
Just 12 months in our sales are doubling year on year... we've jettisoned a product, relaunched our flagship product, rebranded our website, and overcome one of us unexpectedly being absent from the biz. This year we will totally be a AU$1,000,000 turnover business. What's more we LOVE our biz again!
Jo Cumberbatch | Go Trovo Games
"I have been able to efficiently fast track my business to success within the niche Equestrian industry with a complete rebrand, new website, social media and marketing plan and fundamentally a better understanding of my numbers. If you are a business owner who needs to be inspired, educated and connected with like minded individuals to take your business to the next level, I cannot recommend joining the Elevatory journey enough!"
Kate Berry | Just Gorgeous Things
"This program has opened my eyes and helped me take my business to the next level. The assistance and support with FB ads, strategy and financial management has increased my sales month on month. I wouldn't have been able to achieve what I have in the last six months without their help, they have reignited the passion and motivation I first had for my business, and I am excited for what is to come."
Gemma Bronzoni | The Nappy Society
"The Elevatory have helped me scale up and given me the tools and confidence to make changes that have had a major impact on my revenue. I had invested in coaches before, but never to this extent (financially and emotionally)..but I am more than happy to report that the coaching has paid for itself several times over. I honestly couldn't be happier with the results, so much so that I will continue to work with Anna and her team for the foreseeable future. I just cannot let them go!
Nikki Capp | The Cover Collective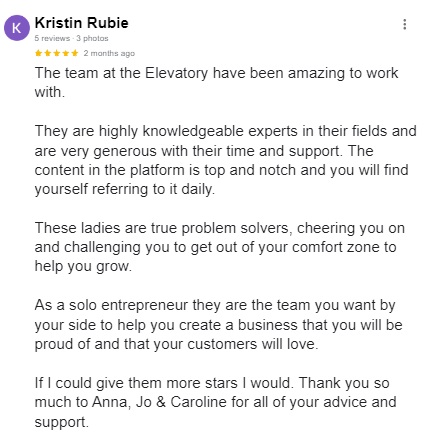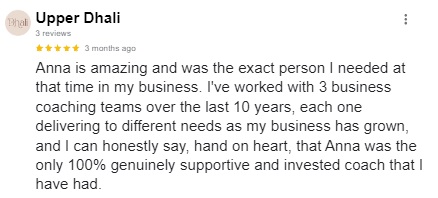 Walk through our entire process with case studies from these current clients
At The Elevatory, we provide personalised coaching for product businesses aiming to amplify growth through strategic marketing.
Our goal, to empower you to master a comprehensive marketing ecosystem, simplifying customer acquisition, conversion, and sales.
ACCESS A TEAM OF EXPERT COACHES
A PROVEN GROWTH FRAMEWORK