Case Study
How This Wine Barrel Design Store went from Breakeven to $50K Months
You're ready to grow - and you know what you need to do… Sales strategy, financial plan, funnels, email marketing, marketing plan .. the list goes on BUT, you're just not sure how to implement it all …
Now, imagine being plugged into a team guiding you through it all step by step.
EMPOWERING you with all the knowledge, tools and training you need.
A completely bespoke experience that meets your business needs.
Our coaching and consultancy service will give you just that.
Introducing Winestains
Kristal's business was inspired by watching her dad create amazing designs in his shed from old wine barrels.
"I saw the beauty in what he was making and felt other people would too."
So she set about creating a business for them which would give them both the freedom to work on their own terms and be home for their family.
Fast forward 10 years and Winestains have been handcrafting grazers, picnic stakes, cheese boards (and so much more!) from beautiful old wine barrels in the Barossa, ever since..
The Problem
Kristal's business was at a critical tipping point. Outgoings were more than incomings and they were finding it extremely challenging to get any traction in the retail market.
"In all honesty, we were probably coming close to a point of ending the business if we were not able to turn things around. We struggled with bringing in enough money to support our dream.
Selling direct to the public was where we struggled most as we didn't really have any experience with advertising, funnels, marketing strategies etc...the list goes on.
I'm still so proud of what we were able to achieve up to this point with no real knowledge or roadmap but it just was not enough to sustain a successful business."
Joining The Elevatory®
Word of mouth is a powerful marketing strategy for any business. Kristal came to The Elevatory after seeing her friend successfully grow her business with us.
"I decided to follow along with your podcasts and 'get to know you' before I decided to try it for my own business. I'm so glad that I did".
The 4 core objectives

at The Elevatory


One
FOUNDATIONS
Set your business up for growth now and into the future

Two
GROWTH
Increase your traffic, sales and profit


Three
AUTOMATION
Automate as much of your business as possible


Four
MINDSET
Have you firmly step into the CEO role of your business
Results
Kristal embraced The Elevatory process with gusto. From mindset and getting on top of her financials through to website upgrades, marketing and Facebook Ads. And the results speak for themselves with online orders growing 800% YOY. With the same projected again this year.
Mindset
Kristal reflects that the idea that she could earn $10,000 a month online seemed like an impossible task before working with The Elevatory. Her mindset has changed dramatically around what's possible and after tipping $50k months during their peak season, she now knows that with the right thinking coupled with the right workflows, funnels, marketing and numbers, that so much more can be possible.
"My mindset has changed, I now think everything is possible. It's just me who has to dream it up and then make it happen."

Financials
A lot of business owners come to us without a firm grasp on their numbers. Kristal was no exception!
As a largely creative person, Kristal struggled to comprehend them and so hated 'numbers' when she started at The Elevatory.
'Not going to lie they still confuse the heck out of me, and I still need a lot of assistance to understand them because it's not a strength of mine but I have a totally different outlook to my numbers now than when I did when I began.
I love spreadsheets and data (when I understand them) and so much of what I do now is based on NUMBERS and I couldn't move or grow my business where I want it without having a great understanding of them"

Website Overhaul
Kristal has actually upgraded her website twice now over her time with us. With each upgrade aligning with new levels of growth and her retail / wholesale needs. With constant attention to best practice optimisation tools.
When we compare Feb 2021 to Aug 2021, the average time a user spends on Kristal's website has increased by 30 seconds and the bounce rate has dropped by 20%. This means the user experience has improved and so most importantly, the website conversion rate has doubled.
Homepage Before
Homepage After
Product Page Before
Product Page After

Email Marketing
Kristal's email list has also grown from a few hundred to several thousand warm prospects thanks to her marketing plans and advertising strategy.
With emails now averaging over $2k in sales per month and growing!

Facebook Ads
One of the biggest benefits Kristal has received since joining The Elevatory is taking control of her Facebook ads. Before starting with The Elevatory Kristal had engaged a FB specialist to run them –
"Big mistake. Because I had no experience or idea how they worked, what was required to run them so of course the ads and ROAS failed."
"I have since learnt a lot about FB Ads (via The Elevatory Training) getting great results for myself! Then eventually I engaged The Elevatory's in house service as I grew, to free up my time to focus on other areas of growth."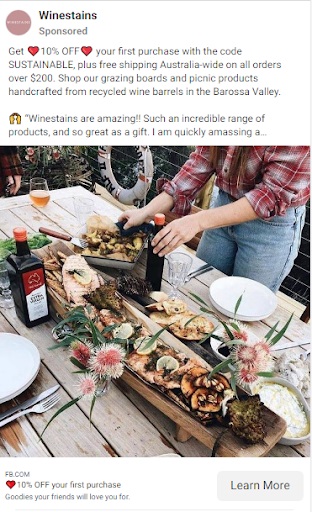 Kristal continues to have great success each time she advertises.
New Product Launch
Christmas Promotion

The Future
"I've got big goals to double my retail sales this year. Alongside this I want to streamline my offering, increase production and explore a digital product.'
★★★★★
5.0 Rating from 61 Google Reviews
"Two months in and my audience has grown by thousands, my list has doubled and my income is steadily growing. I have dived into Facebook ads which has been a revelation and I've even executed a pre launch launch! It is powerful to be right alongside other owners as they grow their businesses too. The support, the accountability and the candidness of our coaches is making a major difference to how I am working and my goals for the future."
Erin Duncan | Erin Duncan Creative
"In the first 3 months I got more done than what I used to get done in a year. We have made so many incredible changes to improve both my sales and profit margin.
After just 2 months, I had a record month in sales."
"In two months, I have tripled my email subscribers, set up automations which have generated great sales (abandoned cart sequence and website pop-up) set up my first Facebook ad which is doing really well AND sold out of my pre-sales for my next book in a couple of hours!"
Jess Spencer | Adored Illustrations
Just 12 months in our sales are doubling year on year... we've jettisoned a product, relaunched our flagship product, rebranded our website, and overcome one of us unexpectedly being absent from the biz. This year we will totally be a AU$1,000,000 turnover business. What's more we LOVE our biz again!
Jo Cumberbatch | Go Trovo Games
"I have been able to efficiently fast track my business to success within the niche Equestrian industry with a complete rebrand, new website, social media and marketing plan and fundamentally a better understanding of my numbers. If you are a business owner who needs to be inspired, educated and connected with like minded individuals to take your business to the next level, I cannot recommend joining the Elevatory journey enough!"
Kate Berry | Just Gorgeous Things
"This program has opened my eyes and helped me take my business to the next level. The assistance and support with FB ads, strategy and financial management has increased my sales month on month. I wouldn't have been able to achieve what I have in the last six months without their help, they have reignited the passion and motivation I first had for my business, and I am excited for what is to come."
Gemma Bronzoni | The Nappy Society
"The Elevatory have helped me scale up and given me the tools and confidence to make changes that have had a major impact on my revenue. I had invested in coaches before, but never to this extent (financially and emotionally)..but I am more than happy to report that the coaching has paid for itself several times over. I honestly couldn't be happier with the results, so much so that I will continue to work with Anna and her team for the foreseeable future. I just cannot let them go!
Nikki Capp | The Cover Collective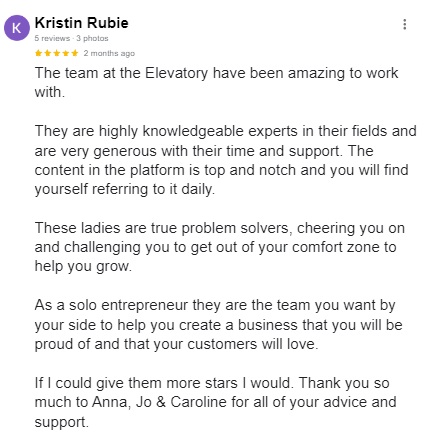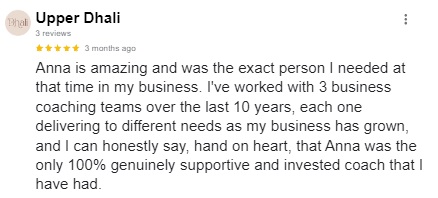 Walk through our entire process with case studies from these current clients
At The Elevatory, we provide personalised coaching for product businesses aiming to amplify growth through strategic marketing.
Our goal, to empower you to master a comprehensive marketing ecosystem, simplifying customer acquisition, conversion, and sales.
ACCESS A TEAM OF EXPERT COACHES
A PROVEN GROWTH FRAMEWORK